Tidak Seperti Pangeran William, Ini Alasan Pangeran Harry Memutuskan Mengenakan Cincin Nikah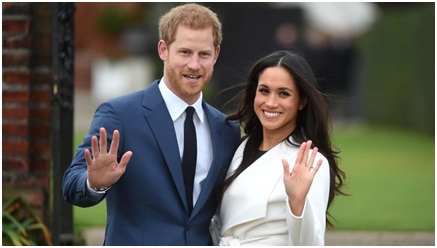 Kurang dari dua pekan lagi, pasangan Pangeran Harry dan Meghan Markle akan mengucap janji suci di Gereja ST. George's di Kerajaan Windsor. Pernikahan yang akan digelar pada 19 Mei ini tentu mencuri banyak perhatian.

Namun, siapa sangka pernikahan Pangeran Harry rupanya akan berbeda dibandingkan dengan kakaknya, Pangeran William. Berdasarkan salah seorang sumber, Pangeran Harry sempat mengungkapkan berkeinginan untuk mengenakan cincin nikah. Berbeda dengan kakaknya, Pangeran William yang lebih memilih untuk tidak mengenakan cincin nikah.

Tujuh tahun lalu, sebelum pernikahan Pangeran William dan Kate di bulan April 2011, pihak kerajaan secara legal menyatakan bahwa Pangeran William memutuskan untuk tidak mengenakan cincin nikah dalam prosesi upacara pernikahannya. "Sederhana saja, itu hanya sebuah selera," ungkap salah seorang asisten kerajaan yang dilansir dari Daily Mail pada Rabu (2/5).

Penny Junor, penulis The Duchess: Camilla Parker Bowies and the Love Affair that Rocked the Crown, juga menjelaskan pada Vogue di tahun 2017 lalu bahwa Pangeran William tak menyenangi perhiasan. Oleh karena itu, ia tidak perlu repot-repot memilih dan mencoba berbagai macam cincin kawin di berbagai toko perhiasan. Tentu saja, hal ini semakin memperjelas alasan bahwa Pangeran William memang mempunyai selera tersendiri. Namun sebaliknya, Pangeran Harry justru pernah tertangkap kamera sedang mengenakan cincin yang selaras dengan Meghan. Tidak hanya itu, sekitar tahun 2016, pasangan ini juga tertangkap kamera sedang mencoba gelang perhiasan.

Untuk cincin nikah yang akan dikenakan oleh Meghan sendiri, pihak kerajaan mengkonfirmasi bahwa sang calon pengantin akan mengaplikasikan model emas Clogau-Welsh. Model ini sama seperti yang pernah diterapkan ibu kandung Pangeran Harry, Puteri Diana.

Terhitung kurang dari 18 hari hingga pasangan tersebut akan menikah, seorang narasumber dari pihak kerajaan membocorkan pada E! News bahwa gladi bersih teknikal sudah dilakukan di Gereja St. George's. Tujuannya adalah untuk menentukan bahwa karpet penyambutan sampai altar sudah terpasang sempurna. Meskipun gladi bersih ini terbukti dilakukan tanpa Pangeran Harry dan Meghan, tetapi pihak kerajaan mengungkapkan bahwa pasangan tersebut akan hadir dalam gladi bersih dua hari sebelum hari pernikahan mereka.

Terlepas dari mengenakan cincin kawin atau tidak, Anda tetap membutuhkan cincin kawin sebagai tanda janji dan kesetiaan Anda pada pasangan dalam suatu ikatan janji suci. Untuk itu, bagi Anda yang sedang mencari atau membutuhkan cincin kawin sebagai pelengkap momen pernikahan Anda, Anda dapat memperolehnya melalui Passion Jewelry. Passion Jewelry merupakan sebuah butik perhiasan pertama di Indonesia yang dapat melakukan pembelian secara offline maupun online. Tidak hanya itu, Passion Jewelry juga menyediakan berbagai informasi terbaru terkait harga cincin tunangan dan harga cincin pernikahan terlengkap. Untuk informasi lebih lanjut, dapat Anda peroleh melalui website official Passion Jewelry di passionjewelry.co.id.

The First Indonesia OMNI Channel Jewelry Boutique,
All Item Ready Stock